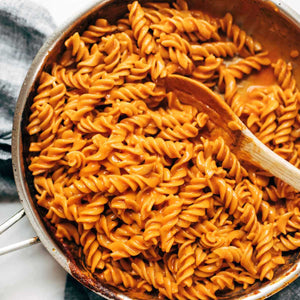 YOU ARE THE CHEF !
7 different pastas, a combination of 500g regular and 250g specialty pastas - approx. $45
7 different sauces (an assortment of pestos and tomato sauces) - approx. $45
1 wedge of Parmigiano Reggiano 24 months DOP - 250g - $12.90
1 wedge of Pecorino Romano DOP - 200g - $10.90
1 bottle  Il Molino Organic EVOO 100ml - $4.90
total: $118.70

We will give you some recommendations on what can be done together, some examples of pasta and sauce combinations:
Truffle Linguine + La Favorita Pesto Tartufo
Orecchiette + Cime di rapini + Borgo de Medici aglio olio pepperoncino spices
Afeltra Penne Rigate + Conserve della Nonna Sugo alla Vodka
Handmade Tagliatelle + Sugo alla Bolognese
Borgo de Medici Farfalle Primavera + La Favorita Sugo Antico
Afeltra Calamaro + Conserve della Nonna Sugo Marinara
Afeltra Spaghetto + Borgo de Medici Sugo Porcini
NOTE: If you have any dietary restrictions or preferences, please let us know in the notes section of your order. Gluten-Free unfortunately not yet available.