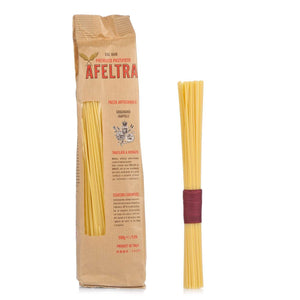 Nonna's Pantry presents Afeltra Spaghettino! Thinner than Spaghetto and with a quicker cooking time, use this pasta if you're in a rush!
Afeltra pasta is strictly artisan, handmade and extruded through bronze, as we've been taught by over two centuries of generations. This procedure gives it an exceptional flavour, thanks to the rough, porous surface which holds the sauce.
In addition to standard shapes, we also make some special shapes of pasta, the most traditional and characteristic of Gragnano: handmade fusilli and paccheri.
Afeltra paccheri are the only ones with a thickness of 16 millimetres, like in the olden days, and this is why they have a unique flavour, especially when cooked very "al dente". Our fusilli, with their unique and unrepeatable shape, have a hole in the middle, which makes them very easy to digest. The processing method is also unique and inimitable: they are wound around an iron rod. This is a very delicate operation, in that an excessively strong movement or too much pressure causes the hole to close, while too little pressure results in failure to complete the winding around the rod. Premiato Pastificio Afeltra is the Presidia of Handmade Fusilli of Gragnano and inside the structure, the master fusilli makers perform their miracle every day.
Every shape of pasta requires a different cooking time, depending on the consistency of the pasta. Other factors also play an important role, such as climatic conditions, the heat of the burner, outdoor humidity and the amount of water. We suggest, for each shape, a minimum and a maximum cooking time, to be observed until you drain the pasta, which should be when the pasta is "al dente", …very "al dente"!