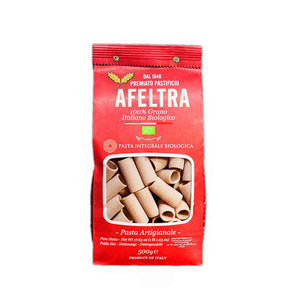 Since 1848, 
Afeltra
 has produced its celebrated pasta and sauces in Gragnano, Campania. As early as the 11th century, the first flour mills were constructed along the waterways flowing from Monti Lattari and by the mid 1800s, premiere 
pastifici
 like Pastificio del Cavaliere Olimpio Afeltra were air-drying each piece of pasta in the Mediterranean breeze. Today, the more things change, the more they stay the same: Afeltra makes pasta in that same 
pastificio
, uses that same water from Monti Lattari and air dries each shape in that same Mediterranean breeze.
Grooved 
rigatoni
 get their name from the Italian righe meaning lines, and sauces easily coat to their rough surface.
Perfect in baked pasta dishes or traditionally paired with an arrabiata sauce!