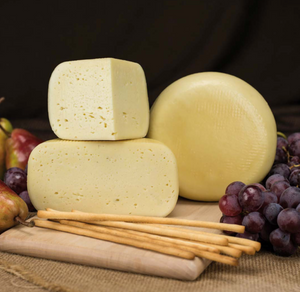 Nonna's Pantry presents Amatrice Pecorini!
Milk: from italian sheep pasteurized, transformed in 24 hours from milking.
Ingredients: Sheep milk pasteurized, lactic ferments, rennet and salt
Characteristics: The Pecorino di Amatrice is a cheese that is part of the semiseasoned cheese class, a product characterized by a pleasant softness, incomparable among its similar.
It has a bowl roundish shape with a thin rind, with warm shades of gold, inside its paste is white with light holes, soft on the palate.
In the kitchen: Its tasteful and pleasant characteristics make it suitable for every lunch moment, from the starter to the end. It's a table cheese, to be absolutely relished with good, fresh bread , or bread produced with olive, sesame... The best combination is together with citrus honey to magnify the sweet asprince contrast. To be accompanied with a slightly sparkling white wine.