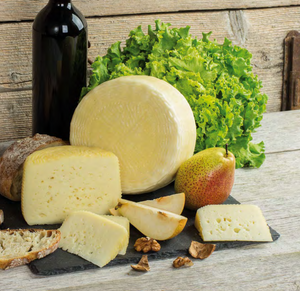 Nonna's Pantry presents Amatrice Pecorini!
Milk: from italian sheep pasteurized, transformed in 24 hours from milking.
Ingredients: Sheep milk pasteurized, lactic ferments, rennet and salt
Characteristics: Pecorino with short seasoning
Outside it shoes a ruled, golden crust. It's put in a particular basket, which remembers us the ancient baskets, used by the clever shepherds. Its paste is semistrong, with some holes, straw-coloured and with a delicate fragrance.
In the kitchen: Old and young people loves this cutting cheese. It combines well with dry fruit or table delicacies and citrus honey, spreaded on a pecorino slice, excellent also with salted meat. The best wine to drink with it is a lightly sparkling white wine or a soft wine.