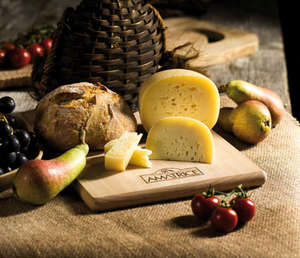 Nonna's Pantry presents Amatrice Pecorini!
Milk: from italian sheep pasteurized, transformed in 24 hours from milking.
Ingredients: Sheep milk pasteurized, lactic ferments, rennet and salt.
Characteristics: Ovaloid shape, thin crust with a colour which spreads from pearl white to light yellow. It's a short aged pecorino, very good table cheese. Its paste is soft, with light holes, a refined scent and a sweet taste.
In the kitchen: It's a very good cutting cheese which is good for old and young people. It's very good with several types of cured meats. It can be accompanied with a good slightly sparkling with wine, or with light and fresh tasty wine with a low alcohol content.