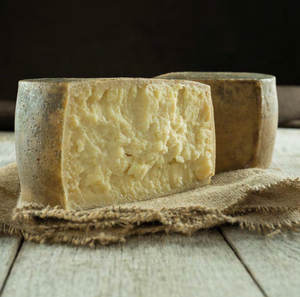 Nonna's Pantry presents Amatrice Pecorini!

Milk: italian Sheep, pasteurized, transformed in 24 hours from milking.
Ingredients: Sheep milk pasteurized, rennet, salt, lactic ferment.
Characteristics: Its shape is still made with wooden shapes as traditionally made the ancient shepherds. This pecorino is aged about 8 months, but the seasoning can last till one year. It is a product which is seasoned in a
wet ambient, that allows it to refine its intense taste. Its paste is straw- coloured, light strong, but never salty, made using a strong rennet which exalts its taste.
Outside it shows a smooth crust, irregularly shaped, deep brown, with black shade, when seasoning increases.
In the kitchen: This strong cheese can accompany refined dishes, or be tasted at the end of meals. With figs or raspberries jams it can amaze the most delicate palates. Excellent gfrated on the well know " amatriciana".
The best wines are the red ruby ones, strong and aged, that exalt the strong, sharp taste of this cheese, long seasoned.