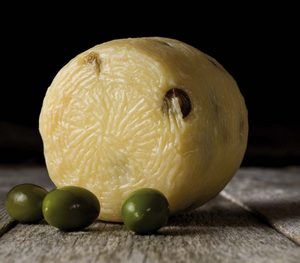 Nonna's Pantry presents Amatrice Pecorini!
Milk: from italian sheep pasteurized, transformed in 24 hours from milking.
Ingredients: Sheep pasteurized milk, rennet, salt, lactic ferments, olives.
Characteristics: It's a cheese with a rush shape, a solid and lightly sweetish paste, because of the presence of green olives rings. The crust is golden yellow coloured. It needs for a short seasoning.
In the kitchen: Excellent for preparing hors d'oeuvres, to enrich salads or, simply to be tasted alone. To be tasted with a good glass of white wine.