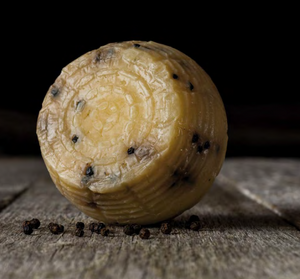 Nonna's Pantry presents SALCIS Pecorini!
Milk: from italian sheep pasteurized, transformed in 24 hours from milking.
Ingredients: Sheep pasteurized milk, rennet, salt, lactic ferments, black pepper.
Characteristics: The pecorino with black pepper shows a yellow crust, with a basket shape, due to the streaked basket in which it is carried out. Looking outwardly we can already notice some black pepper grains. Its paste is white, with light holes, contrasting with the bright black of pepper.
The short seasoning time gives to the pecorino a very intense scent and a strong taste because of a sweet-spicy contrast that must be absolutely tasted.
In the kitchen: Perfect for appetizers or hors d'oeuvres, eaten alone or with honey over it; to be tasted grated on to the pasta, while the best wine is the ruby red one.