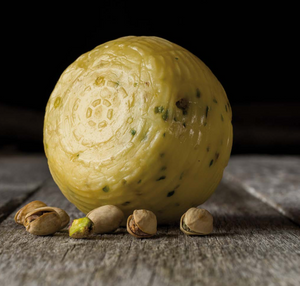 Nonna's Pantry presents Amatrice Pecorini!
Milk: from italian sheep pasteurized, transformed in 24 hours from milking.

Ingredients: Sheep pasteurized milk, rennet, salt, lactic ferments, pistachios.
Characteristics: It shows a pale yellow crust and a soft but dense, ivory coloured paste, with pistachio fragments. It has a sweet flavor that is obtained after a short seasoning time.
In the kitchen: Strewing on to a slice of cheese particles of pistachio and acacia honey. It can be obtained a flavor of fruit and an unique savour to be accompanied with a red wine or a bier for a tasty appetizer.