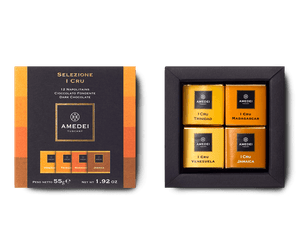 Nonna's Pantry presents Amedei chocolate!
Box of 12 napolitains Trinidad, Venezuela, Madagascar, Jamaica - extra dark chocolate 70%.
Immerse yourself in a tasting journey to discover our chocolate with this small box containing 12 Napolitains and let yourself be surprised by the flavours that different chocolates will give you. I Cru, exclusively single-origin chocolates, will take you to explore various plantations around the world and you will discover the nuances that make each one stand out from the others.