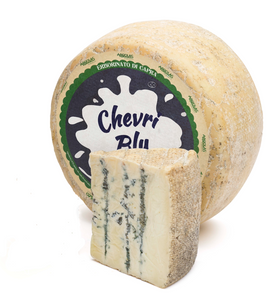 Nonna's Pantry presents Argiolas Cheeses from Sardinia.
It is said that around the year 1000 a distracted cheesemaker forgot the curd of the evening hung to dry for a few days and then, in order not to be scolded by the owner, instead of throwing it away, he used it together with the fresh ones. After maturation, those caciottas were all streaked with green and, if this were true, the cheese maker must be recognized as having the intuition to taste them before throwing everything away.

The blueing is due to the formation of molds that develop during the maturation of the forms. Today it is strictly controlled and obtained by adding pure and selected crops of specific agents to the milk before the curd.

For example, the method used for the marbling of our Blues consists in piercing the shapes with thick iron needles during the seasoning period; the cheese paste is more compact than sheep, an effect due to the characteristics of goat's milk.

Our Chevri Blu has a white paste, thanks to goat's milk, it has about 60/70 days of seasoning. The intensity is high, the nose sensations of butter and mushroom, with a slight animal note. In the mouth the paste is of high solubility: it melts in the mouth in a few moments. Mold is perfectly integrated into the dough, completely free of bitter sensations. On the palate notes of undergrowth, the taste is spicy and delicate at the same time.