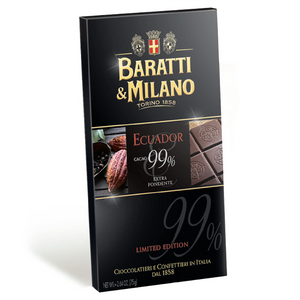 Nonna's Pantry presents Baratti & Milano chocolate from Piedmont.
Ecuador 99% extra dark bar has an the intense flavor of the cocoa from Ecuador with which it is made. Thinner to better enjoy its fragrances. In protective aluminum packaging to preserve its delicate bouquet over time. 
This 99% chocolate bar is like no other. Because of Baratti & Milano's unique process of creating the best cacao mass in the world, the beans are roasted at a low temperature for longer periods, ensuring not to burn the bean, giving the chocolate a bitter burnt flavor. Instead, this chocolate is made from slowly made cacao, allowing you to taste the delicate, yet strongly present tannins of this cacao bean from Ecuador. 
Are you bold enough to eat 99% chocolate?