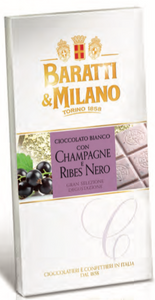 Nonna's Pantry presents Baratti & Milano fine chocolates.
When you open your White Chocolate Bar with French Champagne and Currants, your senses are immediately seduced by the sweet tangy scent of the currants. Once opened, you won't want to wait to taste this chocolate bar. The white chocolate and champagne dance to create an amazing and new flavor with the extravagance and a tango of current to round this bar into an experience all its own.
An Italian expression of expertise and skill.
For over 160 years, Baratti & Milano developed relationships with the Italian farmers that grow the ingredients for our products. Almost all of our ingredients are sourced from Italy, where the best Italian farmers that grow each nut or fruit to reach their peak perfection. The black currants present in this bar were lovingly picked at the right time to give you the best tasting experience. Break off a piece and taste the Italian craftsmanship.