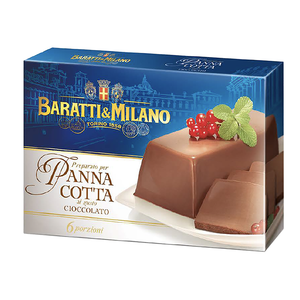 Nonna's Pantry presents Baratti & Milano.
Baratti & Milano Chocolate Panna Cotta Mix is an easy prep mix. The great Piedmontese specialty dessert with an exclusive Baratti & Milano chocolate-flavored variation is smooth and rich with a custard like resemblance in consistency. Panna Cotta refers to a specific Italian cooked pudding.  It resembles other puddings with its soft and silky texture that comes from milk, cream or yogurt, but it differs from others in its ingredients and in how it is made.
1 box can make 6 portions.