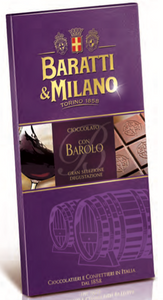 One of our personal favorite bars, this milk chocolate bar includes wine from the Barolo region of Italy. The wine added to this bar is found merely twenty minutes from the Baratti & Milano chocolate factory. The outstanding level of creaminess showcased in this bar makes it entirely too easy to eat. A creative masterpiece for anyone to enjoy, especially those who love chocolate with their wine.

Naturally Occurring Notes of maraschino cherry, vanilla, and butterscotch are present in this decadent chocolate Bar.
Enjoying our Chocolates The smooth texture and depth of flavor are best represented at room temperature.
Ingredients Milk Chocolate with Barolo Wine: sugar, cocoa butter, whole milk powder, cocoa mass, Barolo wine (less than 1%), emulsifier: soya lecithin, flavors. (Cocoa: contains at minimum 30%).
Produced in the same facility as and may contain trace amounts of hazelnuts and almonds.
Gluten Free