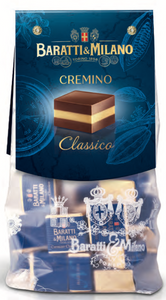 Nonna's Pantry present Baratti & Milano Cremino Classico.
Since the beginning, Baratti & Milano has produced a fantastic praline of three layers called "Cremino".   It is renowned and prized for its delicate creaminess. Made up of harmonious layers of pure velvety chocolate gianduja and hazelnut cream made from Piedmontese "tonda e gentile" hazelnuts.  The original recipe of Master Chocolatiers is a treasure of a long tradition of confectionary and a gift of a little jewel of sweetness and balance.
The chocolate used for Cremini contains exclusively cacao and cacao butter as in the original recipe.