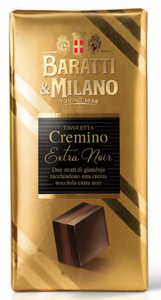 Nonna's Pantry presents Baratti & Milano fine chocolates.
The New Limited Edition Cremino Chocolate Bar Series. 
The cremino has been a world renowned chocolate since the days it won the hearts and taste buds of royalty first during the 1800's, in Italy and across Europe.   They have long been a Baratti & Milano specialty. The little cubes of layered chocolate delight when you pull one end of the outer band and the wrapping unfolds like origami.
Now, you can enjoy the luxuriously smooth chocolate of the Cremino Noir, layered dark chocolate with chocolate hazelnut, in chocolate bar form. 
Ingredients: Gianduja hazelnut milk chocolate (sugar, hazelnuts (24%), cocoa mass, cocoa butter, whole milk powder, fat-reduced cocoa, emulsifier:  soya lecithin. Cocoa 30% minimum), hazelnuts (9%), sugar, cocoa butter, whole milk powder, fat-reduced cocoa (2%), cocoa mass, emulsifier: soya lecithin, natural flavors. May contain traces of other nuts.
Gluten free.
Store in a cool dry place, without sun and odor. 68 to 73 degrees F.
What is a Cremino?
The Cremino is a layered chocolate, typically square in shape. At Baratti & Milano, our Cremino is renowned for its delicate flavor and remarkably creamy texture. This specialty expresses the expertise and skill of the Piedmont confectionery tradition. The Cremino became the chocolate of Italian royalty and Baratti & Milano the royal chocolatiers.
I thought Creminis were mushrooms.
When we say, "Cremini," we don't mean the mushroom. The word, cremini, is the Italian plural of "cremino." But we do enjoy cremini mushrooms on our pizza! 
A unique Italian tasting experience.
For over 160 years, Baratti & Milano developed relationships with the Italian farmers that grow the ingredients for our products. Almost all of our ingredients are sourced from small Italian farmers that grow each nut or fruit to reach their peak perfection. You can taste the Italian craftsmanship.