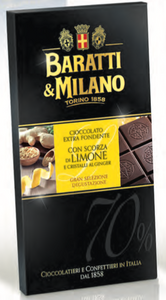 Nonna's Pantry presents Baratti & Milano fine chocolates.
Tavoletta 70% Cioccolato con Limone e Ginger
This Baratti & Milano masterpiece uses a blend of cocoa beans from Ghana and Ecuador to create a perfectly balanced 70% chocolate paired with real Ginger and Sicilian Lemons. As in all Baratti & Milano products, there are only natural ingredients used to produce this amazing chocolate. Our chocolate master's objective is to create a bar with balanced flavors of tannin from the 70% chocolate, acidity from the lemons and zing of the ginger. Total delizioso. Buon Appetito!