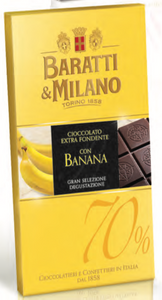 Nonna's Pantry presents Baratti & Milano fine chocolates.
Try the newest bar to the Baratti Collection, dark chocolate and banana. This bar is made with a blend of 70% Baratti & Milano made cacao blend from Ghana and Ecuador and paired with the best bananas, that are freeze dried, to suspend the flavor into this chocolate bar. This bar contains pieces of fruit.
Ingredients: Cocoa mass, sugar, cocoa butter, freeze dried banana (7%) natural flavors. (Cocoa: 70% minimum). May contain traces of milk, hazelnut, almonds, and soya. 
Naturally Gluten Free