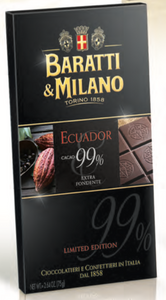 Nonna's Pantry presents Baratti & Milano fine chocolates.
Tavoletta Cioccolato Fondente Extra 99%
This dark chocolate unites Baratti & Milano's various Grandi Cru del Cacaos. Blending of the cacaos creates a subtle bouquet of flavors and aromas. Lowering the amount of added sugars gives this bar a silky, rich, and velvety mouthfeel. An engaging pleasant slight bitterness lingers alongside gripping tannin. This bar is a fantastic complement to charcuterie boards.
Natural Occurring Notes of Brazil nut, plum and nutmeg can be found in this earthy¨ delicate chocolate bar.
Enjoying our Chocolates: The smooth texture and depth of flavor are best represented at room temperature and can be enjoyed with a mineral water