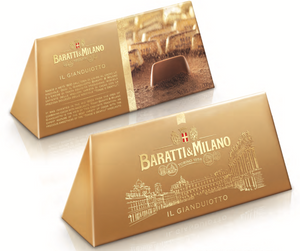 Nonna's Pantry presents Baratti & Milano fine chocolates.
Legend has it that Baratti & Milano invented the famous gianduiotti and became the royal chocolate makers to the House of Savoy.
Creamy and smooth, a perfect balance between milk chocolate and hazelnut.  This perfect gianduiotto melts in your mouth and leaves a persistent finish well after it's gone.  Pure happiness in chocolate form. Famous wine writer Ian D'Agata has said, "Baratti e Milano is the 'Grand Cru' of Gianduiotti". 
This beautiful gold prism-shaped box recalls the iconic shape of the Baratti & Milano Gianduiotto and contains 200 grams of this world famous chocolate creation. Gianduiotti is a delectable mix of Baratti's famous milk chocolate made from a proprietary blend of cacao beans from Ecuador and Ghana and Europe's best milk from Normandy France.
Ingredients: Sugar, Hazelnuts (source: Piemonte, Italy, Tonda Gentile) (26%), cocoa mass (source: Ghana and Ecuador, produced in Italy), cocoa butter (source: Ghana and Ecuador, produced in Italy), Whole Milk powder  (source: Normandy, France), emulsifier: Soy lecithin.
Naturally Gluten Free
Allergens:  Hazelnuts, Milk, Soy
200 grams or 7.05 oz.