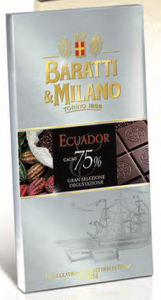 Nonna's Pantry presents Baratti & Milano fine chocolates.
Tavoletta Cioccolato Ecuador 75%
This single origin chocolate is part of Baratti & Milano's collection of dark chocolates titled 'I Grandi Cru del Cacao' The natural sweetness of the cacao shines thanks to careful sourcing and detailed¨ low temperature drying and roasting techniques. By mindfully conching and tempering the cacao a smooth and velvety texture is all encompassing within our line of chocolate bars.
 
Cacao beans sourced from this region of Ecuador highlight a creamy mouthfeel and desirable flavor palate. Natural occurring notes of hazelnut, orange, and cinnamon make this dark chocolate accessible and comforting.
 
Enjoying our Chocolates: The smooth texture and depth of flavor are best represented at room temperature.
Gluten Free