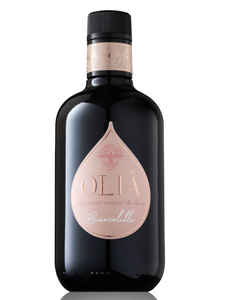 Femininity and creativity: an inseparable duo which finds full expression in today's Mediterranean diet. This new oil has been created by women for women, the driving forces behind companies like Premiati Oleifici Barbera's award-winning oil mill. The project was made possible thanks to Manfredi Barbera's desire to pay tribute to the female identity and spirit of initiative.
From a selection of the finest Biancolilla olives, an ancient Sicilian cultivar, comes OLIÀ. A new olive oil with a gentle, elegant and delicate taste, with the women to whom it is dedicated in mind. OLIÀ seduces and captivates, enticing the senses with its subtle nuances and sinuous lines. A delicate oil which does not overpower flavours, but accompanies them with a caress.
OLIÀ is the fruit of a wider project, supported and promoted by Premiati Oleifici Barbera in partnership with Arcidonna, an Italian association founded in Palermo in 1986 with the aim of seeking freedom and equal opportunities regardless of gender, fostering creativity and identity and combating discrimination of all kinds. In fact, part of the proceeds from OLIÀ will be donated to this association, which has always worked hard to give a voice to the concerns of women.