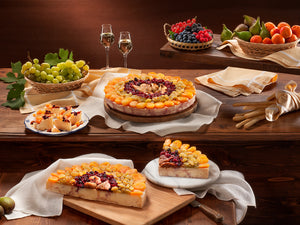 Nonna's Pantry presents Beppino Occelli cheeses from alpine Piedmonte, Italy.
"It is a king among cheeses," enthuses Germana of Gastronomica, as she slices carefully into the mountainous wheel of Occelli con frutta e grappa di moscato. It's just one of several superlatives associated with this extraordinary fusion of dairy, dried fruit and local sweet grappa from cheesemaker Beppino Occelli.
'Ancient' is not one of them. Though the ageing cellars of Valcasotto are centuries old, Beppino Occeli is a modernist. "He cannot just do something simple with cheese," says Germana admiringly. "He is known as an experimenter." Together, his "world-famous" butter and eponymous range of "grand" cheeses (la gran riserva speciali di Beppino Occelli) have earned him a national reputation more akin to a conceptual artist than that of a cheesemaker from Piedmont.
Made from sheep and cow's milk, these cheeses deal in bold and surprising combinations—hay, for example, or barley malt and whiskey. But when Germana describes the Occelli con frutta e grappa di moscato as "uniquely amazing", you can see what she means. Of course, fruit with cheese is nothing new: ricotta and figs, brie and cranberry, apple with cheddar. But this particular cheese—with its crown jewels of plump figs, bright, blazing apricots and golden sultanas—is really in a league of its own.