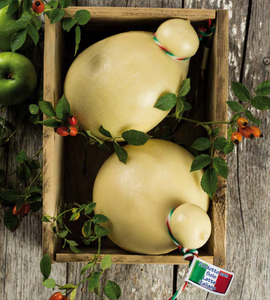 Nonna's Pantry presents Amatrice Provolone!
Milk: Italian cow cheese, pasteurized, transformed in 24 hours from milking.
Ingredients: Cow milk pasteurized, rennet, salt
Characteristics: This cheese show the typical pear shape; it'seasoned 60 days about . it's crust is alabaster coloured, has a smooth surface, its paste is semistreong with light-yellow holes. Its taste is sweet, agreeable, lightstrong.
In the kitchen: Is excellent with aperities, very good melted an a slice of bread, the best wine to serve with it is the white scented one.