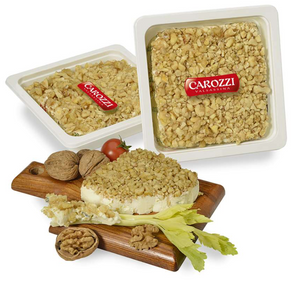 Dairy specialty composed of mascarpone and gorgonzola stuffed and garnished with walnut grains.
Mascarpone: it is a creamy cheese made from pasteurized cow's milk cream. It is soft, creamy, milky white in color, comparable to butter,
Gorgonzola: it is a soft D.O.P. , made from pasteurized whole cow's milk. During the maturing the wheels are pierced several times to favor the development of characteristic molds (penicillium) which determine the green color (marbling). The paste is creamy, straw-colored, mottled due to the development of mold. Sweet, characteristic flavor.