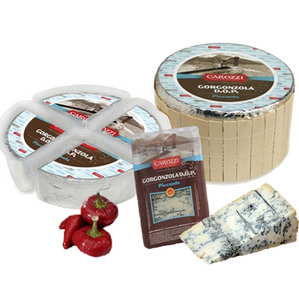 Gorgonzola Naturale by Carozzi is an ancient cheese and is known for its wonderful, intense flavors. It is primarily characterized and recognized for its inner veins of mold, and is a favorite among Italian connoisseurs. Today, Carozzi Naturale Gorgonzola cheese is considered to be one of the most characteristic and favored of Italian cheeses, and one of the few with the Guaranty DOC (literally "Protected Origin Control," a system of control of origin and quality) recognized throughout the world.
Gorgonzola Piccante is a two-layer curd cheese made using exclusively evening and morning cow's milk. The rennet is added to the evening milk and the curd is hung to dry until the next morning. It is during this time that the precious spores responsible for the marbling of the cheese get into the curd naturally from the surrounding habitat, thus the name, Naturale Gorgonzola. The following day the curd is put into a mold together with the curd from the morning milk, in alternate layers. After this is the curing phase and the piercing of the cheese so that the mold is encouraged to grow. It is through this process that the Carozzi cheese obtains its strong, piquant taste that is much appreciated by traditionalists and gourmets alike.
Besides the typical covering, the finished product is 16-20 cm high, 25-30 cm in diameter and 6-12 kg in weight. The cheese has a tough, hard and reddish color rind. The body is unmistakable: soft creamy, white or pale straw colored, heavily marbled with deeply vibrant green streaks throughout the entire wheel.