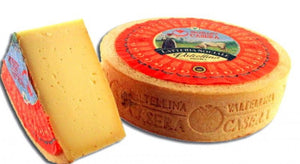 Valtellina Casera has an ancient story, which is intertwined with the dairy tradition of Alps in Lombardia. In particular, this important cheese is one of the protagonists of the diffusion of the social and shifting dairies of the Sixteenth century. In this period, in fact, the breeders started to meet inside the first cooperatives. Milk was transported every day in these big social dairy, where it was processed all together, obtaining at the same time an individual profit. During the centuries, this system grew more and more, evolving and adapting to technology, until it started to dominate even the modern dairy scenery.
Valtellina Casera DOP is a high quality cheese, which talks about mountain's tastes and scents. Its particularity is due to the use of local war materials, obtained from animals free to feed with the rich local pastures, which give to cheese an intense and pleasant aroma. The taste is sweet and delicate, but it becomes more intense as the seasoning goes by.
Valtellina Casera is a semi-cooked cow's cheese, which distinguishes especially for the use of semi-skimmed milk, reducing in this way the amount of fat. The shape is cylindrical, quite short and flattened, with a flat lateral surface. The rind has a typical straw-yellow color, which becomes darker at the end of the maturation. By the slice, instead, it shows a shade from white to yellow, depending of the maturation, and with diffused and thin holes.
The taste of Valtellina Casera is particular, because of the presence of aromatic notes of mountain's herbs and dried fruit. The taste is sweet, more delicate for the younger wheels, slightly intense for the older.