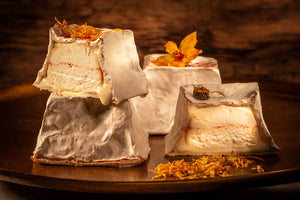 Nonna's Pantry presents Fifth Town Artisan Cheese from Prince Edward County, Ontario.
3 Week Cave Aged Cheese made from100% fresh local Goat's milk. A truncated bloomy rind pyramid, soft ripened and coated with vineyard ash, this savory, citrusy and creamy cheese ripens to blue, and is great with lighter reds (Gamayor Cabernet) or barrel fermented chardonnay.
Fragolina is layered and covered with a dusting of smoked sweet paprika and was a silver award winner at the 2016 Royal Winter Fair.