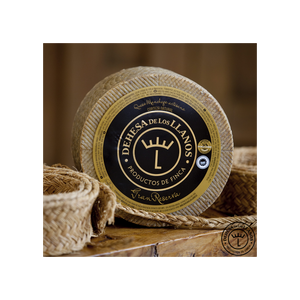 Nonna's Pantry presents Dehesa de los Llanos Manchego.
Denomination of Origin Manchego Artesano Gran Reserva cheese.
Best Cheese of the World Award 2012, WCA.

THIS IS THE ONLY SPANISH CHEESE TO EVER WIN THE WORLD CHEESE CHAMPION AWARD
It is a cheese made from raw sheep's milk, artisan, Manchego Denomination of Origin and has 9 months of minimum curing that has dazzled chefs like Ferrán Adriá and Berasategui.

Tasting: its nine months of curing give it an intense flavor and aroma, a flaky texture and a great persistence in the mouth that invites to repeat. A gourmet cheese suitable for the best palates.
WORLD CHEESE AWARDS

Best Cheese in the World (2012)

Super Gold (2013)

Gold Medal (2007, 2017)

Silver Medal (2014, 2016, 2018)

Bronze Medal (2010, 2011, 2019)


WORLD CHAMPIONSHIP CONTEST- WISCONSIN

Gold Medal (2008)

Silver Medal (2014)