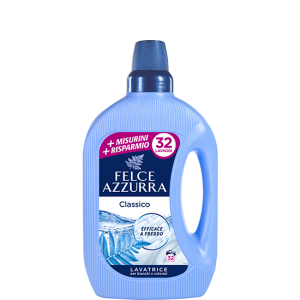 Nonna's Pantry presents the Felce Azzurra line of Italian household natural products.
A unique, unmistakable fragrance which is composed of more than 100 ingredients coming from all over the world, and is still a secret owned by Paglieri's family, guarded in a precious notebook that is passed down from generation to generation.
Felce Azzurra, synonym of experience and Italian tradition, has created a new Classic laundry detergent that combines its authentic and unique scent with an effective concentrated formula. Thanks to the rich mixture of enzymes, it removes stains even at low temperatures, protects tissues and renews clothes' colors.