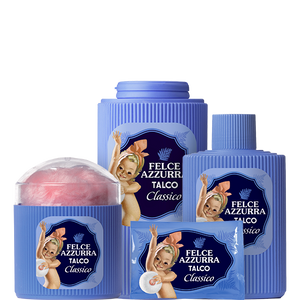 Nonna's Pantry presents the Felce Azzurra line of Italian household natural products.

A unique, unmistakable fragrance which is composed of more than 100 ingredients coming from all over the world, and is still a secret owned by Paglieri's family, guarded in a precious notebook that is passed down from generation to generation.
The soft Felce Azzurra Talcum Powder is a totally natural product, combined only with the unmistakable scent Felce Azzurra, without any added colouring agents or preservatives.
A light and soft powder that caresses your skin and leaves it silky and scented.
It's perfect after a relaxing bath and each time you wish to enjoy the pleasure of a timeless scent.