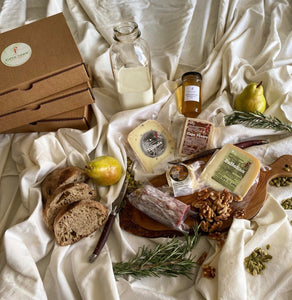 Nonna's Pantry presents Fifth Town Artisan Cheese from local Prince Edward County, Ontario.
Treat yourself to an indulgent evening in with this curated selection of our best sellers!
Each box will include a REVOLVING monthly selection of 3 Cow or goat or buffalo and mixed cheeses, a local cured meat and a condiment, such as:
Lemon Fetish – Goat feta with Lemon Zest in the curds, & rolled in Red Fife Flower
Cape Vessey – Firm washed rind goat cheese
Buffalina – Hard brushed rind water buffalo cheese
Truffalo – Hard brushed rind water buffalo cheese with black truffles
Locally produced artisan cacciatore Salami
1 Fifth Town Estate grown preserve
Other sections will be chosen based on fresh or firm cheese releases made from cow, goat or buffalo milk. Order once a month and try something new!!