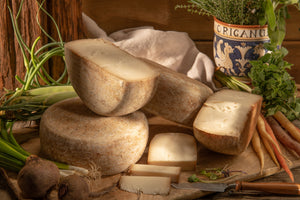 Brushed rind cheese made from 100% fresh local goat's milk.
Grand Reserve Champion at the 2015 Royal Winter Fair.
Pleasant, light, almost nutty, sweet and savoury flavours with a smooth yet granular, firm texture and a mild saltiness. With a slightly grassy, floral scent, this balanced cheese is great with lighter red wines like Gamay, barrel-fermented wines like Chardonnay or a Canadian icewine. Perfect as a dessert cheese, you can imagine how well this cheese pairs with walnuts, dried apricot, figs, honey and fruit jam.
Aged versions darken with caramelization and complex flavours develop with accompanying crystallization.