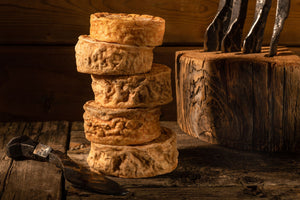 Nonna's Pantry presents Fifth Town Artisan Cheese from Prince Edward County, Ontario.
Washed rind cheese made from 100% fresh local goat's milk
Current recipe is like a Camembery.  White bloomy soft ripened rind.
Paste oozes when ripe and is firm and chewy when young. Pungent smell and flavour, can have garlic, fungal mushroom or fruity flavours with a hint of bucky gaminess. Use as a finisher or blue substitute on a cheese board; this cheese is best paired with white wines, Sauternes or even Trappist style beers.