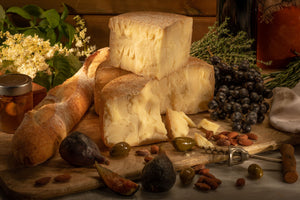 Nonna's Pantry presents Fifth Town Artisan Cheese from Prince Edward County, Ontario.
Naturally Cave Aged Cheese made with 100% fresh local Water Buffalo's Milk
A dense, hard cheese that is slightly nutty and complex with mineral accents. Naturally cave-aged for minimum of 12-18 months. The rich lactic and herbaceous flavour structure allows this cheese to represent the terroir of Prince Edward County. Mild saltiness makes it a perfect match for complex medium-bodied red wines such as Cabernet Francs of Merlots.