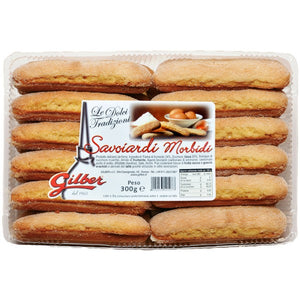 Nonna's Pantry presents Gilber, traditional bakery from Piemonte.
Typical Piemontese egg biscuit, essential for the excellent result of a perfect and delicious tiramisu. Very suitable for a delicious breakfast or for a nice snack with friends. It has a very rich mixture of raw materials that give it an incomparable softness and goodness.
Soft ladyfingers Together with the Amarettoni they are the flagship of the production of Gilber biscuits. Very rich in eggs, they remain very soft and fragrant for a long time so as to be considered not only basic biscuits for the preparation of desserts but also ideal pastries to be consumed at any time of the day with a coffee or tea!