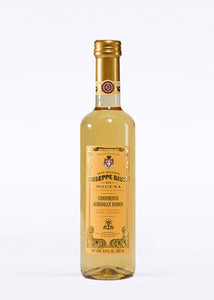 Nonna's Pantry presents Giusti, the oldest producer of Balsamico di Modena DOP in the world. 
Giusti is the greatest name in the history of balsamic vinegars. First documented as an established producer of balsamic vinegar in Modena in 1605, Giuseppe Giusti is celebrated worldwide for superior quality. Having earned countless distinctions through the centuries, including supplier to royalty, Giusti continues to receive recognition and demonstrate its excellence as an extraordinary producer of gourmet vinegar.
This particular Premio variety of the venerable Giuseppe Giusti Balsamic Vinegars of Modena is relatively moderately priced. A quality product that allows the newcomer to experiment and begin to discover the possibilities in the finest of balsamic vinegars.
Classico balsamic comes to fruition only after four years of aging in the antique barrels of Giusti's famous Great Reserve. The world's largest collection of rare barrels, Giusti's holdings date to the 1500s. This matchless heritage provides the optimal nurturing for the world's finest vinegars, lending an inimitable complexity as it draws upon the flavours and aromas of centuries of exquisite balsamic.
Balsamic vinegar is not wine vinegar, but is rather made from unfermented grape pressings. The fresh juice is boiled down to a thick, sweet syrup. It then goes into wooden barrels, where, along with a vinegar "mother," it ages. This process, which can continue indefinitely, further concentrates the vinegar, while the thickening and sweetening intensifies. The choice of types of wood and age of the barrels contribute further character and flavour to the final product.
A tart-sweet addition to any dish, from poultry, fish, meat and game or cheese to fruits and desserts.
Try it on braised pork, marinate a chicken with it or soak it up with hunks of Pugliese bread