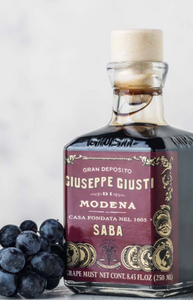 Nonna's Pantry presents Giusti, the oldest producer of Balsamico di Modena DOP in the world. 
The "Saba", a local name for cooked grape must, is a fresh product, appreciated locally since the age of the ancient Romans. The must of local grapes is cooked until a particularly sweet, and thick concentrate is acquired. A bottle of Saba makes for a decadent gourmet gift for chefs, cooks, and housewarmings.

Traditionally Saba accompanied cheeses, but more recently, thanks to its sweetness, it has been rediscovered for desserts, such as ice cream, creams, and ricotta based cakes. It can even be added to savoury dishes for a little sweet surprise. The possibilities are endless!
 Producing the finest gold medal-winning Balsamic Vinegars since 1605, the Giusti family's tradition is established on not only their secretly guarded recipes but also owes its unique magical flavours to barrels dating back to the 1600s, 1700s and 1800s, a valuable and most antique collection which imbues their precious vinegars with a priceless heritage, achieving a characteristic bouquet of skillfully combined aromatic equilibrium derived from 17 generations of expertise.