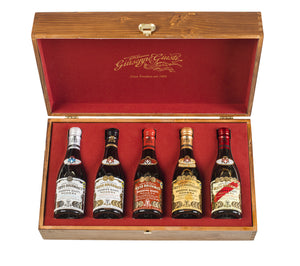 Nonna's Pantry presents Giusti, the oldest producer of Balsamico di Modena DOP in the world. 
This decorative latched wood box, with 5 beautiful champagnotta bottles inside, is the perfect gift for the food Aficionado, the gourmet, or the chef in the family. A truly remarkable collection of centuries of savoir-faire. 
The special edition "Pavarotti" Scrigno was created as a limited edition to celebrate the life of Luciano Pavarotti.  Originally auctioned for over $ 1000 euros we have a limited selection from the original collection.
5 traditional Balsamico di Modena, all made in the traditional method, in the lofts and cellars of Modena that Giusti is famous for.
From the left: 6 years aged / 8 years aged / 15 years aged / 25 years aged / 35 years aged