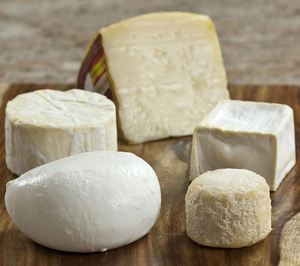 Buongiorno a tutti,

The team at Nonna's Pantry would like to invite you to be a member of our exclusive club and be part of La Famiglia. We are offering a subscription to a monthly release of cheeses, at a great price.
Why join us? Simply because we know what we're doing. We were the original importers of first choice Parmigiano Reggiano back in the 50s and have since broadened our selection to include a wider variety of Italian and local cheeses to suit every palate.

Explore the famous Barolo wine aged cheese from the Piedmontese alps, lovely burrata (many of our clients say it's the best) from its birthplace in Puglia, Italy, fresh mozzarella di bufala from the grasslands of Campania, exclusive Parmigiano Reggiano (aged up to 5 years), poppyseed covered sheep's milk cheeses from the rolling hills of Tuscany, Sardinian pecorino where you can taste the salt washed grass, and many more, handpicked and cut just for you.

We have 3 tiers of our subscription, priced below.

Every month you will receive:
Tier 1 - La Famiglia ($57.90/month) 
The inner circle, you are like family to us! You will receive once per month:

- 3 hand picked cheeses (150g+) from our Cheese Vault Master who will handcut cheeses with the team just for you. One fresh cheese (mozzarella / bocconcini / burrata) will be included for those in our GTA and Montreal delivery areas. Cheeses will be vacuum sealed for optimal freshness. Upon arrival please refrigerate to use at a later date, or if the cheese craving is already upon you, open and enjoy!
- 1-3 artisan accompaniments depending on what kind of cheese is delivered e.g. a local raspberry preserve alongside a brie, a fig preserve with Spanish Manchego, or organic bruschetta spices with our mozzarella di bufala so you can prepare the world's best aperitivo for you and your family / friends.
- 1 cheese tasting notes, food / wine pairing sheet
Tier 2 - La Famiglia con Salumi ($67.90/month)
The inner circle + artisan salumi, in addition to the above selection, you will receive:

- 1 cured meat (200g+) either local or imported; sliced bresaola from Valtellina IGP, salami infused with Chianti wine from Tuscany, or locally made wild boar cacciatore are some of the options, amongst many others.
Tier 3 - La Famiglia dei Tartufi ($87.90/month)
Truffle lovers rejoice, we have you covered The item numbers in the selection above is what you will receive, but instead of our regular product selection, enjoy an exclusive, fine selection of artisan truffle salami, truffle cheeses and truffle condiments to whet your palate and WOW your friends and family. Once you start, you will never want to stop.
Nonna's Guarantee – We guarantee 100% satisfaction with your order. If a wedge of cheese or other item wasn't up to your high standards, we sincerely apologize and would like you to get in touch right away with a photo of the affected item and a brief description of what went wrong. We will rectify it with either a partial refund of your selected package or a reshipment of the item (or a different one of equal or greater value).