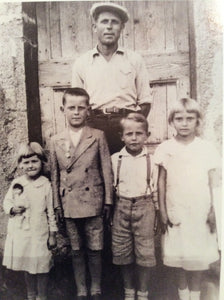 1 olive oil, vinegar or surprise item of the month – Experience some of Italy's finest olive oils from Sicily to Puglia, a vinegar or a surprise item which can also be an extra cheese or salami,  with tasting notes and food / meal uses.

1 pasta or rice of the month – a month to month rotation of fine pastas from Tuscany, Gragnano, and Campofilone, or a delectable rice from the fertile valley bordering the Po River.

1 sauce of the month – the best pesto Genovese DOP, the tastiest tomato sauces from Emilia Romagna, the heartiest Tuscan truffle sauces, and many more.

1 spice or salt of the month – Sea salt from Puglia, Saffron from Abruzzo, Organic Arrabiata spices from Tuscany, and many more

1 chocolate of the month – Amedei, Alda di Provenzano, Giraudi, Vosges, Baratti Milano are some of the fine artisan chocolate makers that we will feature in this box
3 hand picked cheeses (150g+) from our Cheese Vault Master who will handcut cheeses with the team just for you. One fresh cheese (mozzarella / bocconcini / burrata) will be included for those in our GTA and Montreal delivery areas. Cheeses will be vacuum sealed for optimal freshness. Upon arrival please refrigerate to use at a later date, or if the cheese craving is already upon you, open and enjoy!

1-3 artisan accompaniments depending on what kind of cheese is delivered e.g. salumi, a local raspberry preserve alongside a brie, a fig preserve with Spanish Manchego, a local honey to drizzle,  or organic bruschetta spices with our mozzarella di bufala so you can prepare the world's best aperitivo for you and your family / friends.
1 cheese tasting notes, food / wine pairing sheet