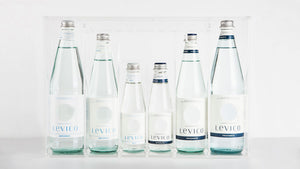 Nonna's Pantry presents Levico waters from Trentino, Italy.
Levico water is the purest expression of its territory: Trentino. It comes from a pristine spring in the coniferous forests of the Valsugana, at a height of 1660m in the Alps, where it is collected and then bottled in the Levico plant. Exclusively using glass bottles allows its characteristics to be preserved right to the table.
With only 38 mg/l of fixed residue, Levico water is one of the bottled waters with the lowest mineral content. It is a light water, with an equally light imprint on the environment thanks to the innovative zero-impact factory and sustainable production processes.
Due to its lightness, the infinitesimal concentration of sodium and salts, Levico water is recommended for those following low-sodium diets, for people with hypertension and in particular in the diets of babies and children.

Levico Terme
A rare eighteenth-century city on water, Levico Terme is a world-famous spa destination. The benefits and natural effects of the water from Levico Terme have been known for hundreds of years. At the thermal baths, illnesses related to stress and anxiety as well as arthoreumatic problems are treated "naturally", in addition to respiratory tract illnesses and dermatological diseases.