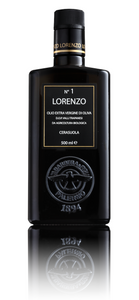 Nonna's Pantry presents Lorenzo #1 Estate Extra Virgin Olive Oil.
Lorenzo N°1 is a high quality extra virgin olive oil obtained from the selection of the best olives from organic farming, grown in a P.D.O. (Protected Denomination of Origin) area. The olives used are the ideal ones to produce a P.D.O. Valli Trapanesi extra virgin olive oil, one of the most prestigious Sicilian P.D.O.s. The result is a product with a very strong personality, with the typical fragrance that recalls the fresh fruit and with a pleasant almond aftertaste.
CULTIVAR
Monocultivar Cerasuola.
AREA OF ORIGIN
Western Sicily (P.D.O. Valli Trapanesi).
ALTITUDE
Medium hillside.
METHOD OF HARVEST
Harvested by hand.
EXTRACTIONS SYSTEM
Continuous cold extraction, within 12 hours from the harvest, and separation by centrifuge; the oil is allowed to settle and then decanted naturally.
FILTERING METHOD
Natural fiber filters.
AROMA
Spicy with a persistent herbaceous flavour.
TASTE
Intense fruity flavour, well rounded taste with green tomato and bitter almond finish.
APPEARANCE
A slightly dense oil, brilliant green in colour with golden yellow reflections.
USE
To perfect great dishes, to enhance the flavour of all dishes of the Sicilian cuisine.