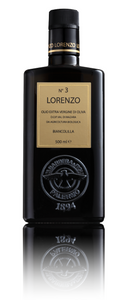 Nonna's Pantry presents Lorenzo #3 Estate Extra Virgin Olive Oil.
From the best fruits of Central Sicily, like many precious emeralds hanging from the tree branches, we get this unique olive oil, a product of the faithfulness for organic farming and love for tradition. The result of so much scrupulous attention is Lorenzo N°3, a precious extra virgin olive oil of a mild fruity flavour and a well rounded taste with light peppery finish. Obtained exclusively by Biancolilla olives. Excellent.

Dedicated to three generations of the Barbera family, this Lorenzo line represents the supreme synthesis of Manfredi Barbera e Figli's extra virgin olive oil production: the perfected sum of all the values that have always inspired the company, as well as the natural propensity for innovation and cutting-edge technology at the Custonaci mill.
Fragrance: Mild with green almond notes.
Taste: Mild fruity flavour, well rounded taste with light peppery finish.
Culinary Use: Ideal on all seafood, on vegetables crudités and with fresh cheeses.