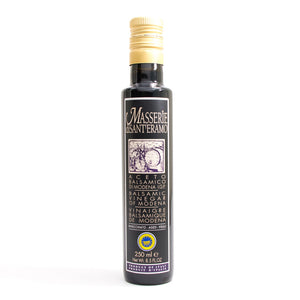 Nonna's Pantry presents Masserie di Sant'Eramo balsamico di Modena.
This is a superior quality balsamic vinegar, of medium-high density with at least 8 years of aging in small precious wooden barrels that give it an intense, characteristic, persistent aroma and a pleasantly acetic, harmonious and rich flavor. It is a balsamic vinegar with an intense brown colour. Lively, vigorous and full of nuances with perfectly balanced flavours.
It can be used in vegetarian diets and in diets that require the absence of gluten, lactose and fats.