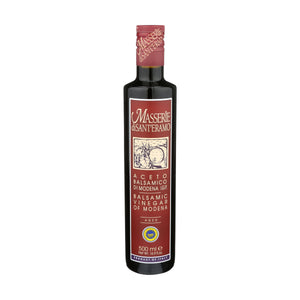 Nonna's Pantry presents Masserie Balsamic of Modena IGP.
Traditionally made, high quality balsamic vinegar with a slightly unctuous mouthfeel, and balanced sweetness. Names as one of the best-value, balanced vinegars by The Washington Post!
This is a medium density balsamic vinegar with at least 6 years of aging. It is a balsamic vinegar with an intense brown colour, lively, vigorous and full of nuances; flavourful with perfectly balanced notes.
It can be used in vegetarian diets and in diets that require the absence of gluten, lactose and fats.