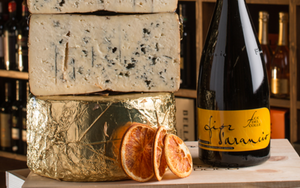 Nonna's Pantry presents Moro cheeses from Veneto in northern Italy.
The name Fior d'Arancio comes from the type of sweet wine used.

The cheeses, before being placed in barrels, are drilled with holes so that the wine can penetrate and then the wholes are covered with the wine Fior d'Arancio DocG (sweet wine from Colli Euganei produced from vulcanic soil) for about 30 days, then left sitting on wooden planks.

The flavour obtained has the typical aroma of the wine and reveals intense and ample aromas of tinned fruit, apricot and peach jam, acacia honey and wildflowers; the aroma of vanilla completes the final bouquet.

The taste is of extraordinary elegance and personality, with good balance between freshness, flavour and sweetness. It is perfectly in tune with the body of the blue-veined cheese which has a very pleasant finish and enduring persistence.