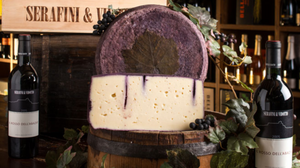 Nonna's Pantry presents Moro cheeses from Veneto in northern Italy.
Rosso dell'Abazia comes from the name of the wine used for ageing.

The cheeses are placed in barrels and when possible (at harvest time) are covered with dregs of grapes and then with the wine , a blend composed of Cabernet Sauvignon, Cabernet Franc and Merlot fro about 30 days, then left to rest on wooden boards for another two mounths.

The smell is fascinating and of complex fruitness with hints of dried red plums, sour cherries and candied citrus. Then progressively are hints of mountain hay, herbs, myrtle, berries, bay leaves but also pleasant perception of dried violet and floral balsamic eucalyptus.
The flavour is simultaneously fresh and warm, enveloping and savory.